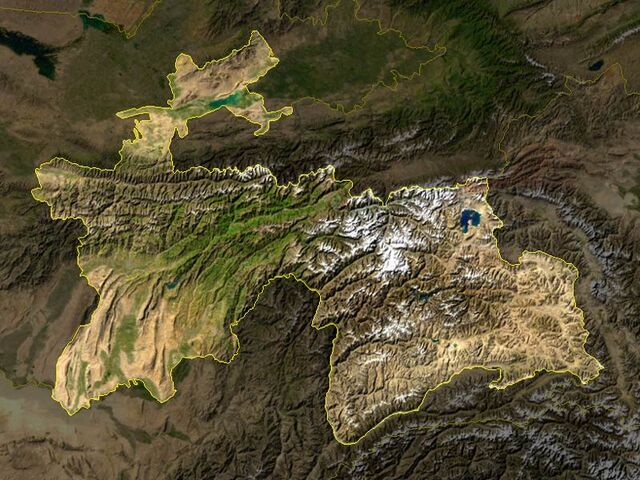 نود و سه درصد مساحت کشور تاجیکستان کوهستانی می باشد( پامیر در شرق‍ وادی فرغانه در شمال و شرق ‍ وادی کافرنهان و وخش در جنوب غربی ) کل مساحت کشور 143100 مساحت خشکی ها 142700 ‍ مساحت آبها 400 کیلومتر مربع می باشد.
ْْSource: Satellite shot of Tajikistan
This file is in the public domain because it was created by NASA. NASA copyright policy states that "NASA material is not protected by copyright unless noted". (NASA copyright policy page or JPL Image Use Policy).

Warnings:

Use of NASA logos (which include the current "meatball" logo, the old "worm" logo, and the seal) is restricted.
Materials from the Hubble Space Telescope may be copyrighted if they do not explicitly come from the STScI. [1]
All materials created by the SOHO probe are copyrighted and require permission for commercial non-educational use. [2]
Images featured on the Astronomy Picture of the Day (APOD) web site may be copyrighted. [3]
Adapted from the Wikimedia Commons file "Image:Tajikistan satellite photo.jpg" http://commons.wikimedia.org/w/index.php?title=Image:Tajikistan_satellite_photo.jpg&oldid=8709525 text released under the GFDL
Appears on these pages

of
Tajikistan is a mountainous country in Central Asia. It is a former Soviet republic and has...
File history
Click on a date/time to view the file as it appeared at that time.
Ad blocker interference detected!
Wikia is a free-to-use site that makes money from advertising. We have a modified experience for viewers using ad blockers

Wikia is not accessible if you've made further modifications. Remove the custom ad blocker rule(s) and the page will load as expected.